What is a Urethane Topcoat?
Urethane concrete floor maintenance is a necessary but easy solution to keep your decorative concrete floors or high performance concrete floors sterling and in pristine condition. Urethane top-coated floors and epoxy top-coated floors are a premier finish for newly poured or older concrete floors with character; they are almost twice as thick as acrylic sealers and form a high-build protective film on the concrete surface that provides excellent resistance to chemicals and abrasion.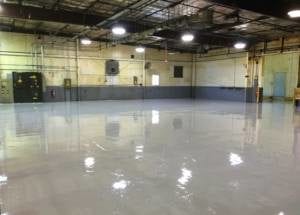 Now that you know a little bit about Urethane and Epoxy floors, we can delve into five tips for how to maintain urethane floors.
5 Tips on Urethane Concrete Floor Maintenance:
Daily Maintenance: Dry mop the floor daily with an industrial dust mop. This will help remove dust and debris that can degrade the conductivity.
Weekly Maintenance: Once a week wet mop the floor with a mix of non-residue* alkaline and water, and allow to dry.
Bi-Weekly Maintenance: Every two weeks, auto scrub with a mixture of diluted alkaline non-residue floor cleaner to remove the ground in contaminants. In this process, use soft nylon bristle pads or red buffer pads. Be careful to not use too aggressive scrubbing pads because they could remove the gloss. If you have stubborn, ground-in scuff marks, you can use detergent. When using detergent, allow it to soak and then scrub.

*Be aware that many detergents and cleaners leave behind harmful residues that reduce the conductivity of the floor finish. Make sure the floor cleaners you use are non-residue to keep the appearance of your urethane or epoxy floor.

For an additional option, you can wax the floor, however this is usually not necessary. Keep in mind, once you wax a floor, you must regularly wax it to maintain the shine.
Urethane or epoxy top-coated floors should last 10 or more years if regularly maintained. However, severe scuff marks can take a toll on the gloss and the overall look of the floor. Now, consider re-coating the floor.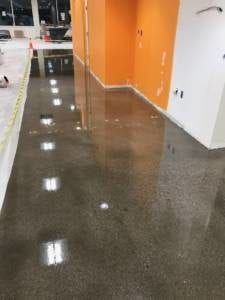 Overall, when considering what topcoat to choose for your concrete flooring project, keep in mind the environment, how long you want it to last, if you want to reseal it every couple years, and how you want it to look. Urethane and epoxy topcoats are good options for industrial use; they may be more expensive than other sealers, like acrylic sealers upfront, but they will last longer and are more durable. They are generally thicker than acrylic sealers and they come in many colors, they can be slip-resistant, and chemical-resistant, and are aesthetically pleasing. They can be applied to concrete that has been ground and stained concrete to protect it and give it a nice glossy finish. If you follow the tips in this article, you should get several years of life to your floor, therefore making it a very wise investment. However, these tips are only suggestions; we are not the experts, so please contact your cleaning vendor or a janitorial company like Jon Don to seek professional advice or secure a cleaning urethane concrete floor maintenance program to protect your investment!