A WINTER PARK RESORT'S POOL DECK MAKEOVER, SEPTEMBER 4-9, 2016.
Devil's Thumb Resort and Spa has a beautiful pool and so many other amenities for families, couples, and people of all ages and places in life. Their pool in particular is expansive and has a beautiful view of Colorado's majestic mountains. We were delighted that they chose us to repair the pool deck's concrete surface and apply our resort pool deck coatings. We were able to save them time and energy by giving them a final product that should last them years to come! Our sandbroadcast pool deck system is perfect for commercial properties, resort and spas, HOA's, and even some residential properties.
HOW DO COLORADO CONCRETE REPAIR'S RESORT POOL DECK COATINGS DIFFER FROM OTHER COMPANIES?
When you work with us, you are in good hands. Besides all of that though, we use top of the line materials and are extremely diligent in our prep work, as well as in the finishing steps. Our sandbroadcast system uses locally sourced, beautiful and natural Colorado quartz, however there other quartz options from which to choose. This pool deck coating is durable, crack-resistant, and chip-resistant, meaning it should last our clients years to come. The sandbroadcast makes it so the surface is slip-resistant, which gives peace of mind. The Chief Operating Officer at Devil's Thumb worked with the board to choose our pool deck coating because there other option was to rip it out and replace it. Fortunately they asked us our opinion and we were able to give them a cost-effective solution that will give them a good return on their investment. It took us one week to deliver a minimally invasive like-new pool deck that their guests could enjoy that Friday evening after a wedding and for years to come!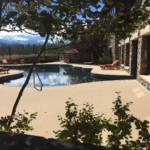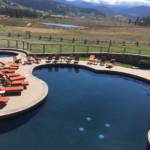 Call us today to schedule your free estimate at 720-258-6571!
Learn more about our pool deck system below or on our pool deck coatings page…
POOL DECK SANDBROADCAST SYSTEM: MAKING POOL DECKS BEAUTIFUL AGAIN
Our pool deck coating system is unique! We use only the highest quality materials and our craftsmanship to turn ugly pool decks into beautiful surfaces once again with minimal interruption to business. Are you faced with a choice to replace your pool deck due to spalling and cracks on the surface?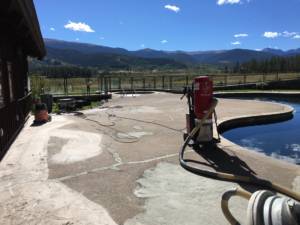 Consider our sandbroadcast pool deck system instead. It is durable! We prep the surface by grinding and patching the areas that need addressed, and then layer on our coatings. The last step is when we broadcast sand into the durable coatings. Oh my! This system will leave you with a  beautiful pool deck for years to come, as it is crack-resistant and chip-resistant. Your guests will love it! Our sandbroadcast pool deck system is also slip-resistant, giving your pool guests good traction with the locally sourced Colorado quartz. This will ease your safety concerns and leave your guests to enjoy the pool.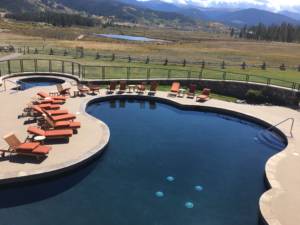 This process takes less time than replacing the pool deck and makes less of a mess and interruption to pool activities. We've finished a resort's 4,000 square foot pool deck in one week. They chose to invest in a pool deck coating instead of replacing it because the cost over the additional years they will get to use the pool was well worth it! Plus, they only had to close their pool for one week. In fact, we were able to give them a finished pool deck by Friday night for a big wedding party to end their joyous day!
Our pool deck coatings are:
Durable
Cost-effective
Crack-resistant
Slip-resistant
Beautiful
What are you waiting for? Give your pool deck to us and we'll transform it! Call us today at 720-258-6571 for your free estimate.
Pool Deck Gallery:
Relax, surrounded by the majestic Colorado mountains and a beautiful, durable pool deck, protected by our one-of-a-kind concrete coating system.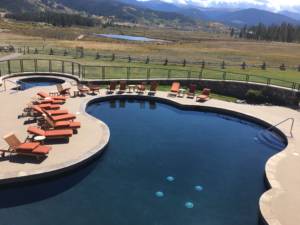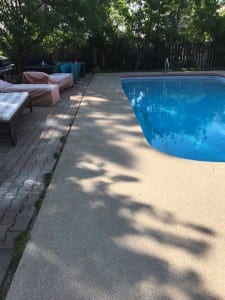 Call us today to discuss your project needs at 720-258-6571!