EPOXY STAIN FLOOR, A DREAM FLOOR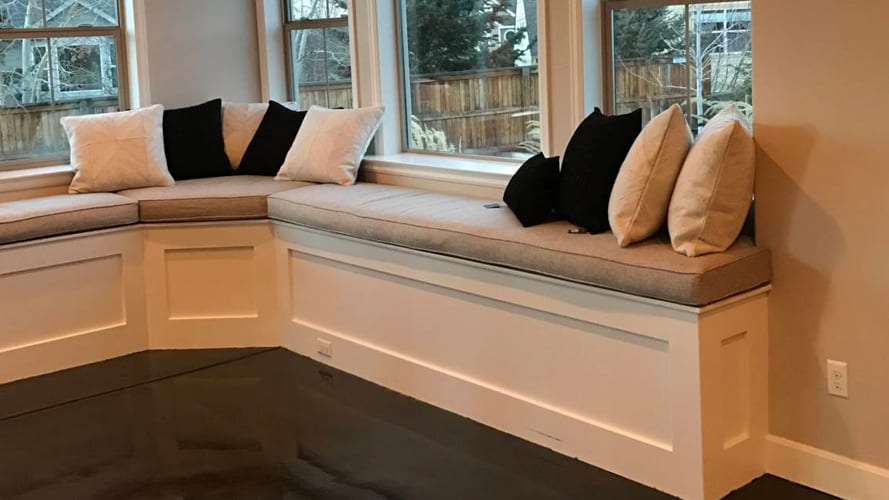 Our Highlands Ranch clients chose an epoxy stain floor look for their basement remodel. They are working with a well-known local remodeling company to transform their unfinished basement in the highly sought after Backcountry neighborhood. They really wanted their floor to be the star of the show, as well as wanted the color scheme to match their furniture and decor. Their basement transformation consisted of adding barn doors to their movie theater corner, whiskey barrel wood for their bar backsplash, and a nice seating area, where guests can view the people playing pool and darts. This basement is going to be so cool!!
When trying to decide what type of basement floor to have, they knew they wanted to keep their concrete floor, but transform it, too! They had some ideas on Houzz they showed us, as well as they already had an idea of a stained concrete floor being the perfect choice. We walked them through their options and the differences among the different types of floor stains and topcoats available to them. They originally thought the water-based stained concrete with acrylic sealer would be their best bet, but after we looked at their concrete, we chose to with an epoxy stain instead. The concrete had some patching due to adding plumbing for a new bathroom and regular stained concrete would've looked different in different areas. The epoxy stain was our best option; now it all matches and flows nicely, like a piece of artwork!
BENEFITS OF EPOXY STAIN FLOORS:
[unordered_list style='circle' number_type='circle_number' animate='no' font_weight="]
Hides imperfections, like patching and glue in the concrete
Adds a one-of-a kind custom look that is absolutely incredible
Will make your guests "oooh" and "aaaah"
Easy to clean
Durable surfaced for spills
Protects the existing slab of concrete
[/unordered_list]
BEFORE PICTURES:
[vc_row][vc_column width='1/3′]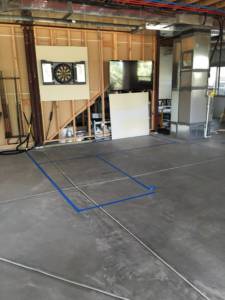 [/vc_column][vc_column width='1/3′]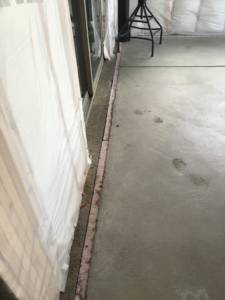 [/vc_column][vc_column width='1/3′]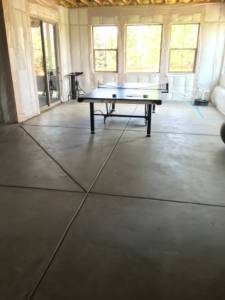 [/vc_column][/vc_row]
AFTER PICTURES:
[vc_row][vc_column width='1/4′]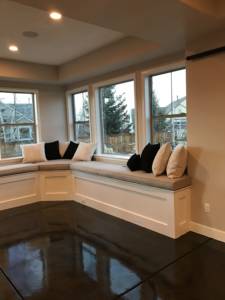 [/vc_column][vc_column width='1/4′]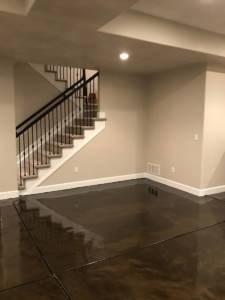 [/vc_column][vc_column width='1/4′]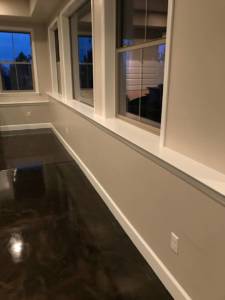 [/vc_column][vc_column width='1/4′]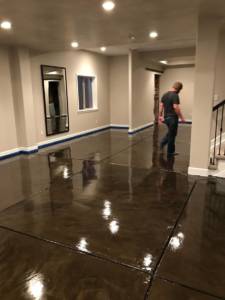 [/vc_column][/vc_row]