A POOL DECK COATING IS A PERFECT OPTION FOR MULTI-FAMILY AND HOME OWNER'S ASSOCIATIONS!
Last week we finished a pool deck coating at an apartment complex in Westminster, Colorado. In only five days we transformed the 4,000 square foot deck into a beautiful, slip-resistant, and durable pool deck. This kept the property management company from having to rip out and replace the pool deck, which would have been more costly and would have made more of a disturbance in the daily operations.
Our crew was excited to do this project! The pool deck needed some patching and minor repairs here and there, and we were up for the task! We had beautiful weather and the on-site team was great to work with. Even the residents stopped by to say hi when they passed by, asking us lots of questions about their new pool deck coating. The pool deck needed repairs, however, it was in good enough condition to opt for the pool deck resurface instead of replacing it. Some things to look for when deciding whether to replace the concrete or to resurface it with a brand new coating are:
How big are the repairs needed? Are there deep holes that are more structural issues rather than aesthetic and minor unevenness in the concrete? If so, replacing might be better. If there are just minor repairs, consider having us install a pool deck coating.
Do you have a time limit or budget you're trying to meet? Our crew can repair and apply our sandbroadcast pool deck coating system in a matter of days, depending on how big the deck is at around $6-8/square foot, again, depending on the size.
Do you want your concrete to last longer without having to replace it? Our sandbroadcast pool deck coatings are durable, flexible, and beautiful. After we prep the concrete thoroughly, which can include washing it with a pressure washer, patching, and even grinding the concrete, we broadcast this quartz into the coating base. This base coating is high technology and is used for parking decks, so it is durable as they come. Here's this pool deck in the preparation stage of the process: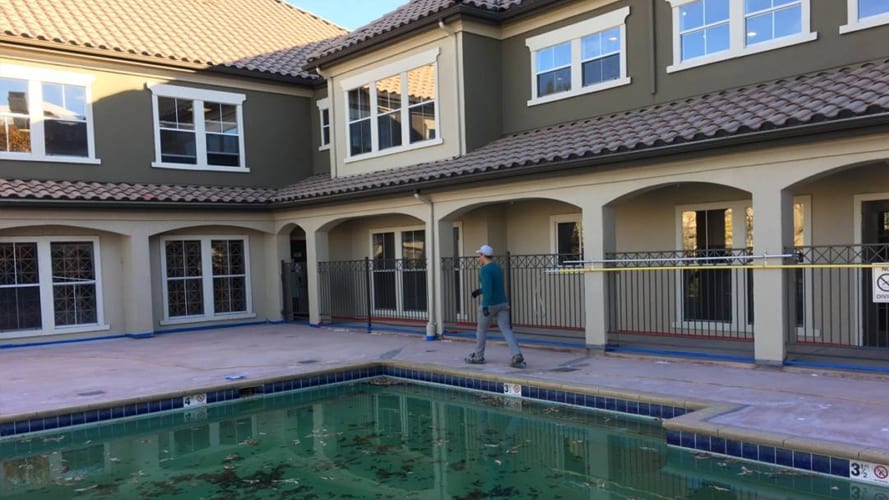 A POOL DECK TRANSFORMED
The residents at 9100 Vance in Westminster can now enjoy the pool when the management company re-opens it. Depending on the temperatures when we applied the system, pool users can use the pool as soon as 24 hours after the application is complete. *Check with us if you have questions about specific timing for your project. The residents will appreciate the new, crisp look, and will appreciate that it is even and slip-resistant.
Call us today at 720-258-6571 for your new pool deck transformation!