Colorado Concrete Repair specializes in industrial and commercial flooring solutions, including polished concrete, so we'd like to take a moment to share with you polished concrete benefits. Polished concrete floors are a green flooring solution that also contributes to the awarding of a LEED designation; they are also durable and increase the ambient lighting in each space. Let's review the some of the benefits of polished concrete below.
SOME OF THE BENEFITS OF POLISHED CONCRETE INCLUDE:
Stain-Resistant: The mechanical process of polishing the concrete, including densifying and sealing the surface, tightens the porous concrete floor to repel liquids, including oil, water and other contaminants. This prevents them from contaminating the surface, however it is still a good idea to clean up spills when they happen, especially acidic liquids.
Increased Slip-Resistance: The process of mechanically grinding and polishing a concrete floor increases its coefficient of friction when compared to ordinary concrete. The shininess of the polished concrete can be tricky; it does not make the surface more slippery, but instead polished concrete often exceeds OSHA standards for floors.
Less Maintenance: Most flooring systems, like tile and linoleum take aggressive scrubbing to clean them. Polished concrete, however, are tightly compacted, and thus reduce stains and do not require waxing or stripping to maintain sheen.
Cost-Effective: Polished concrete will reduce energy bills and maintenance costs drastically due to its increasing ambient lighting and reflectivity, reduction in upkeep and reduction in tire wear.
Improved Reflectivity and Ambient Lighting: Polished concrete naturally increases ambient lighting and reflectivity, thus, reducing energy bills and making the room look more beautiful.
Reduces Dusting and Efflorescence: In unpolished concrete, particles are pushed upwards through the concrete, creating efflorescence, which in turn leads to dusting. This creates more maintenance.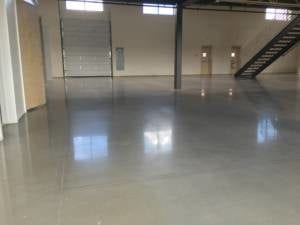 In summary, there are several benefits to investing in polishing concrete, but there are also benefits to other concrete flooring applications, like epoxy floors and sealed floors, depending on what you'll primarily use the floors for and your budgetary concerns. Polished concrete is trending right now and there's a good reason it is! It should last you 10+ years if maintained correctly. Speak with one of our specialists today to get you started on your next project! Call us at 720-258-6571!