Colorado Concrete Repair was contacted by Harcros, a chemical plant that was struggling with their concrete flooring. Many different issues had taken their toll over the years, but the causes were not as important as the challenges: these problems with the concrete meant that forklifts and other machinery that needed to use the surface couldn't, which meant that the employees were unable to do their job.
You can see some of the before photos, here:
Colorado Concrete Repair was asked to come in and help fill the holes, cracks, and dips in the floor. They also needed a better option. Many manufacturing plants use chemicals that can damage floors, but Harcros quite literally creates these chemicals, which meant that their flooring was under even more stress than most other industrial facilities. They needed something special.
We suggested the use of Novolac, a specific type of resin used in epoxy flooring that offers significantly more protection for smooth surfaces when the surfaces are faced with frequent and damaging chemical spills. Coatings with Novolac are also durable enough for frequent forklift and heavy machinery use. Harcros agreed, and our team went to work.
First, we prepped the floor and removed the leftover coating from the last upkeep project. We then filled in the holes and crevices. You can see what this looked like as we were working on it: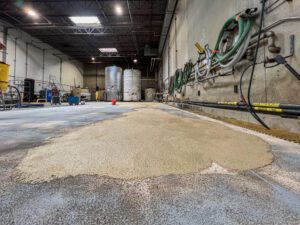 We then smoothed over any ridges left by our patch work, so the floor would be able to showcase a flush appearance. Finally, to finish the job, we mixed our Novolac coating and laid it down on top of the concrete patch work. To help with durability, we also added a sand broadcast before laying down a second coating of Novolac, completing the work. As you can see from the "After" photos, the smooth, grey surface that we were able to give our customers as a major improvement, and one that they would be able to use for many years.
If you operate an industrial facility, auto garage, or any place that comes into contact with frequent chemical spills, contact Colorado Concrete Repair today. Serving Denver, Commerce City, and all throughout the surrounding region, Colorado Concrete Repair can help repair or replace any concrete or epoxy coating.