MIZU, DENVER HIGHLANDS CONTEMPORARY JAPANESE RESTAURANT, POLISHED CONCRETE FLOOR LOOKS STYLISH AND IS EASY TO MAINTAIN
COMMERCIAL POLISHED CONCRETE FLOORS ARE TAKING OVER…OUR STORY RECENTLY…
August 2016 we polished a restaurant floor for a new sushi restaurant opening in the Highlands, Denver, CO. The client chose a polished concrete with black dye to show off the beautiful and upscale style of the restaurant. The floor had mastic, or glue, on the surface that we had to remove before we started polishing. Then, we polished the restaurant floor with a traditional 800 grit polishing system and cast black dye into the concrete. We are proud to say that our client is happy with our work and even wanted us to fix up a concrete wall that he had behind the bar area. We love giving our clients the look they desire. Commercial polished concrete floors are durable, easy to clean, beautiful, and long-lasting.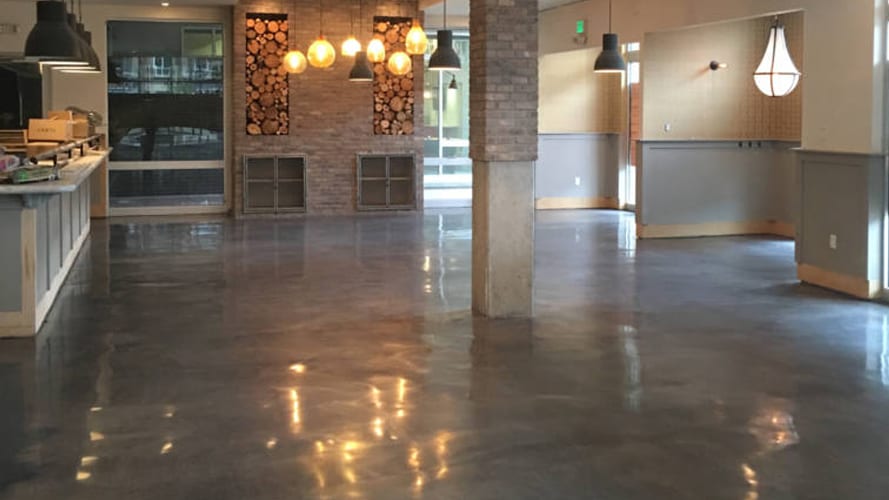 Polished concrete is a great flooring option for several different purposes: schools, auto shops, warehouses, car show rooms, retail shops, museums, and just about anywhere you can think of with a nice slab on of concrete. We have the machine and man power to beautify your concrete floor in a matter of days to weeks, depending on the size of the job. Polished concrete is green, meaning you do not need to put any other material over it. It is also a good option if you want flooring that is sturdy and lower maintenance than most. Polished concrete will stand the test of time as long as you maintain it properly. We can get you in touch with a company that provides polished concrete maintenance so that you are worry free when you have your new floor.
Call us today for your FREE estimate!