HOW TO MAINTAIN CONCRETE FLOORS
In this article, we'll walk you through how to maintain your concrete floors. Concrete floor maintenance is a key aspect of protecting your investment! So you chose to keep your concrete floor, instead of covering it with laminate, tile, wood, or carpet. Congratulations! You now have a floor that will take less maintenance than the other flooring options, especially carpet! However, keep in mind that virtually all flooring requires some sort of maintenance and regular attention. The amount of maintenance your floor will need, highly depends on the amount of foot and vehicular traffic that it receives. For instance, if you have a concrete floor in your residence, you will likely get away with a simple cleaning regimen with the occasional sweeping and damp mopping. On the other hand, commercial flooring may require daily sweeping and mopping, but keep in mind that both residential and commercial flooring do not do well with acidic cleaners and sometimes even soap-based products. Always refer to your coating contractor if you have questions about maintenance. Read on to find out more about how to maintain epoxy floors and polished concrete.
EPOXY FLOOR MAINTENANCE:
Epoxy floors, whether in your garage, pole barn, warehouse, or place of business, are durable and generally have a pristine appearance. Usually our clients want to know how to maintain their newly coated concrete floors, so that they can increase the lifespan, as to not have to tear out and replace or re-coat. If you maintain your floors correctly, and with these steps in mind, you should be able to have a floor that lasts for years to come.
[ordered_list]
Spills are going to happen. When a spill occurs, it is important to clean it up as soon as you can, because it could stain or penetrate the coating if it is acidic, or can become slick of it's oil. All you need to do is use a paper towel or soft cloth to wipe it up.
If it's more heavily soiled, first, sweep up any loose debris, then mop the floor with a hard foam mop, hot water, and clear ammonia.
Routine maintenance for your epoxy floors, only require a soft bristle broom or blue commercial dust mop.
Another good way to regularly maintain your floor is to spray out with a hose and squeegee dry; this works best if you have a drain or access to the outside.
If the concrete has been stained, you can use a kitchen scrubbing pad and lightly scrub with just hot water.
Refrain from using cleaners with acids, like vinegar and citrus, and soap-based cleaners. In particular, the soap-based cleaners will build a residue over time, which will decrease the shine, and the floor will become progressively slippery, even if you have a "slip-resistant" coating.
[/ordered_list]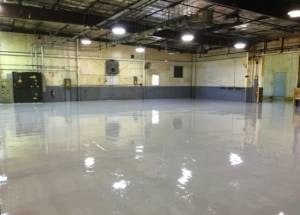 In conclusion, epoxy floors are very durable, especially when professionally installed, however, this does not mean they are indestructible. If you do gauge the concrete coating, contact your installer to get a quote on fixing it. Sometimes you can get a warranty, however, gauging the floor coating is not necessarily always covered by warranty.
POLISHED CONCRETE FLOOR MAINTENANCE:
Polished concrete is an exceptionally durable floor and attractive, yet also economical and environmentally friendly. It is an ideal flooring option for businesses and residential indoor use, primarily because most buildings are built on concrete slabs already. Furthermore, polished concrete is very versatile; the property owner can choose the level of sheen, from satin to high gloss. This flooring option is very low maintenance, as it requires no floor finish or wax stripping and reapplication. See below for polished concrete maintenance tips to help you keep your floor resilient for up to ten years before you need to restore it.
[ordered_list]
Place walk-off mats at entryways. When people walk into the building, they will often track dirt and debris in with them. In this case, mats help reduce the amount of dirt that is tracked in.
Dry mop daily to remove dirt. If dirt is left on the concrete surface, it can scratch and abrade the surface over time, which interferes with the shine and creates a dull appearance.
Wipe-up spills immediately. In the polished concrete process, we apply densifies, which will help to enhance the stain-resistance of your floor, however, the concrete is still porous, which means it is in your best interest to clean up spills immediately.
[/ordered_list]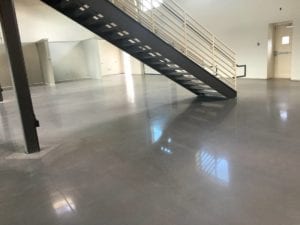 To sum it up, polished concrete is an extremely durable surface that can be used in many facilities, like schools, gyms, retail centers, churches, restaurants, auto shops, pole barns, and almost any business or home with concrete that is in good condition. If maintained properly, your polished concrete investment can last you ten or more years before it needs to be restored.
AND THAT'S IT!
There are other concrete flooring types, but they are very similar to either polished concrete or epoxy floors. Basically, for both types of floors, you want to dry mop often, clean up spills immediately, and when you mop, do not use abrasive cleaners or even soap-based products. For epoxy floors, you will benefit from using a commercial-grade floor wax designed for concrete floors to protect against stains, dirt and abrasion. However, for polished concrete floors, wax is not required for up-keep; simply gently clean it or hire a janitorial company to maintain it if you are a commercial facility and do not have someone in-house who can maintain it regularly. If your polish becomes less shiny than you'd like it, contact your decorative concrete contractor to buff the surface or to lightly re-polish it with a fine-grit abrasive. Floor mats always help at the entryways, so that you track in less dirt and muck. Now that you know about concrete floor maintenance, enjoy your new investment!
Contact us today for your FREE estimate! We'll be glad to guide you through the decorative concrete flooring process and then we'll make sure your in good hands with proper knowledge to maintain your investment! Call us at 720-258-6571!