Colorado Concrete Repair specializes in epoxy urethane floor coatings. We have spent the last decade learning all that we can about the concrete repair and coatings business. We are your experts in transforming dull, spalling, cracked concrete warehouse floors into beautiful, durable, high-performance, and easy-to-clean concrete floors. This past May we refinished a waterproofing membrane manufacturing facility's 8,000 sq. ft. concrete floor. Our client requested a high-performance floor coating that would brighten up their facility and that would be easier to maintain with good traction to meet safety requirements.
THE DECISION-MAKING PROCESS:
To meet their specifications, we met with the key decision makers and agreed upon an epoxy urethane system to be completed in one week. We showed the owner and board of directors their choices in color and explained to them the benefits of choosing an epoxy urethane floor coating. Epoxy coatings are traditionally used for large warehouse facilities, in which there is high fork lift traffic, however, we often recommend a urethane topcoat because urethane is more scratch resistant, reduces wear, and makes cleaning easier than an epoxy coating alone.
EPOXY URETHANE FLOOR COATING PROCESS:
Once all the decisions were made and we ordered material, we were ready to start the one-week job. First, we grind the concrete and clean any debris that is remaining on the concrete. We use quality dust containment systems and craftsmanship during the whole process. We fill the joints, flush for forklift service, and then grind those areas smooth. [Not all clients choose joint filler and it is an additional cost]. Once the concrete is porous and smooth, it is ready for the coating installation. We carefully mix the material in batches and roll the epoxy on first, then let it dry, and apply a urethane topcoat.
[ordered_list]
Diamond grind the concrete
Install flexible epoxy joint filler
Grind joint filler smooth
Apply epoxy
Apply urethane topcoat
[/ordered_list]
THE FINAL RESULT:
Our client chose a medium gray with aluminum oxide traction additive for slip-resistance. They went back and forth between the light gray and medium gray, and I think they chose a great color because it came out nice and light, yet not too light, and it brightened the room. The client is happy they chose our company to install this system because we met their needs within their budget and within the allotted timeline. They enjoyed working with us and were happy with our honesty and customer service. We really enjoy working with clients with whom we can come up with a perfect solution for their needs!!
Project Gallery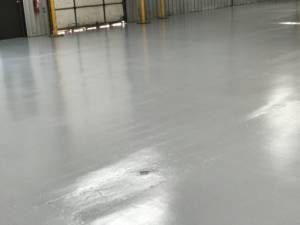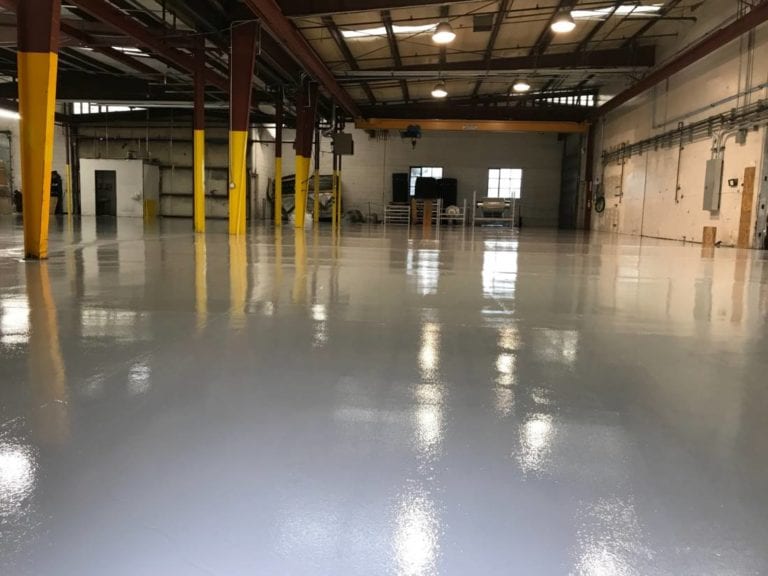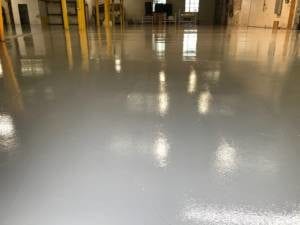 Call us today for your next epoxy urethane floor coating project! 720-258-6571!