FIRE RED EPOXY GARAGE FLOOR SYSTEM IN DENVER NEIGHBORHOOD
Are you looking for a new look for your garage?! We have the solution for you! Just last week we finished a garage floor system in a nice Denver neighborhood. The home owners are working to renovate their garage, where they play mini hockey games with their children, store their outdoor gear, and park their cars. They chose our garage floor system in 1/8″ Firebrick epoxy chip, which goes particularly well with their stucco and brick house. Once we were done, they told us they loved the new look. All they need to do next is paint the walls!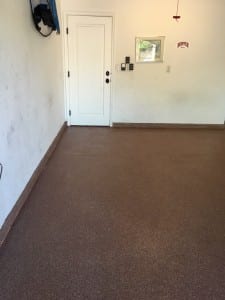 WHY CHOOSE US TO HELP YOU REVAMP YOUR GARAGE FLOOR?
Traditionally garage floors get a lot of wear and tear, and over time you may find that your concrete floor that was once beautiful and new, deteriorates. If your concrete garage floor is at the point of spalling, or chipping at the surface, showing aggregate beneath, it is time to call us!
We'll first make sure your garage floor is a good candidate for our garage floor system by seeing how badly it has deteriorated. Most of the time we've found that garage floors, even though they look pretty bad, can be good candidates for our epoxy garage floor system. We'll check to see if any repairs need to happen and how much prep work will take place.
Then we'll talk with you about your choices! We use the Graniflex technology, which is durable and highly resistant to cracks. It also withstands harsh weather and vehicular and foot traffic really well. You get to choose what final look you want! We have 1/8″ chips, like in this garage, or 1/4″ chips in several colors. The most popular color is Copper Mountain, however this house looks amazing with a Fire Brick red! You can also have us sandbroadcast, which means we'll broadcast a locally sourced sand into the mix to make a beautiful floor.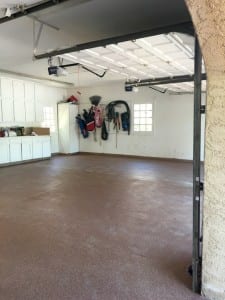 We look forward to hearing from you. Call us today at 720-258-6571 if you'd like to discuss your garage flooring project needs.