INDUSTRIAL FLOORING OPTIONS
Whether you own or manage a manufacturing warehouse, brewery, food facility, fire station, furniture store, retail store, veterinary facility, or even a pole barn, you want tough floors that will outlast the wear and tear of the daily grind. We'll explore the various industrial flooring options with you in this article, and hopefully, we'll leave you with more knowledge to decide which flooring application is best for your situation.
THERE ARE MANY FLOORING OPTIONS TO CONSIDER, BUT WHICH ONE IS THE BEST FOR YOUR BUSINESS OR PROJECT NEEDS? LET'S TAKE A LOOK!
Epoxy Chip Floor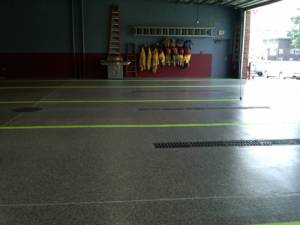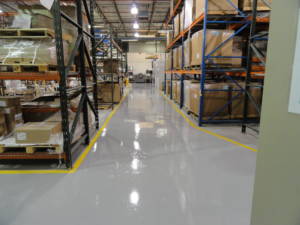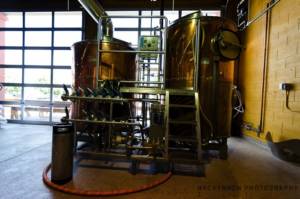 Furniture warehouse polished concrete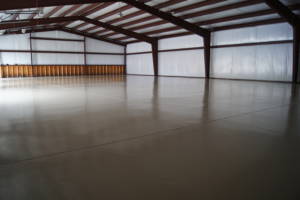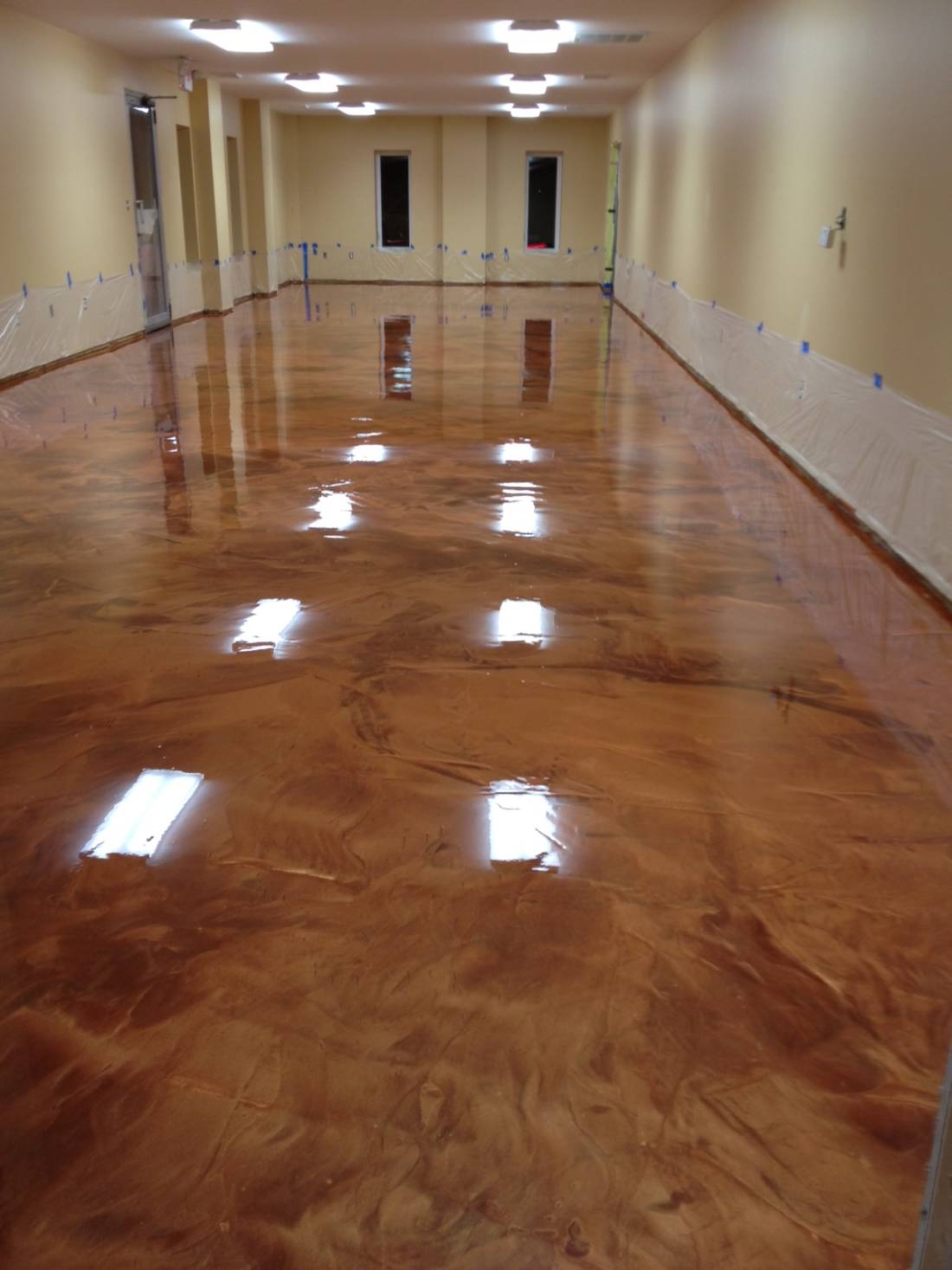 Epoxy floors, also known as epoxy coatings, are typically more expensive than overlays, however they are seamless and extremely abrasion resistant. Epoxy coatings are ideal for projects requiring durability, longevity, and chemical resistance. They require minimal maintenance, which makes them popular flooring applications for show rooms, retail facilities, schools and food preparation areas.
Our team at Colorado Concrete Repair specialize in epoxy floors, like epoxy chip floors, metallic epoxy floors, flat epoxies, and sand broadcasts. Our epoxy coatings are generally "microtoppings" or skim coats that are flexible and super thin, usually around featheredge to 1/8 inch. We've completed projects that range in size from 800 square feet to 10,000 square feet, such as a large tool manufacturing facility that chose a flat gray epoxy flooring to a fire station that requested an epoxy chip system.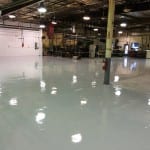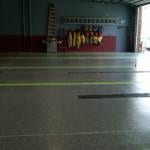 Epoxy Chip Floor
We generally recommend epoxy floors if you want to cover up or hide concrete's imperfections, like cracks and mild spalling. We choose thinner epoxy systems, so that the coating can flex with the concrete as it moves. Take a look here to view an example of a Tuscan Slate overlay system that our peers in Columbus, Ohio, applied for more information on thicker overlays, which are applied thick enough to accept texture and cover minor imperfections in the concrete substrate.
Concrete grinding is a more affordable option than ripping out and replacing concrete, and in addition it gives you a smooth finish, removes trip hazards, removes coatings from concrete, and prepares the surface for other flooring systems.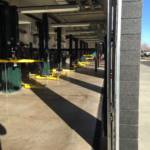 Auto shop bay area – concrete grind and seal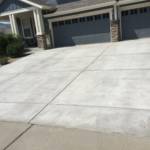 Driveway – concrete grindingw]
We have state-of-the-art concrete grinding and polishing machines and have used them to grind thousands of square feet for clients, who simply wanted a smooth and sealed surface to store and move boxes all the way to clients who wanted to removetrip hazards for foot traffic safety. It is best to choose a concrete grind and seal if you are satisfied with the look of your existing concrete. We will guide you through and help you decide when we do the initial walk-through, but generally you must be okay with seeing cracks, the existing color of the concrete, and areas where it is spalling.
Grind the concrete, then Seal it!
Furthermore, once you choose the concrete grind and seal option, you will then choose a sealant. We recommend acrylic sealers for most projects, but you can also choose a penetrating sealer, which chemically reacts with the concrete, or an epoxy-type thicker coating. Acrylic sealants are applied both on the interior and exterior surfaces to form a thin, protective film that protects against water and chloride intrusion, as well as allows the moisture in the slab to escape. They are UV-resistant and non-yellowing. They also come in a variety of sheens and can enhance the natural floor.
Finally, keep in mind that acrylic sealer is a fast-track option, meaning it dries to the touch within an hour usually. You also will have to reapply more often since it is much thinner than epoxy and urethane finishes. You will also want to maintain the floor with several coats of floor finish or wax to prevent wear.
Polished concrete is ideal if you want a no-wax, no-coating flooring option with a satin or high-gloss finish. This flooring option has superior durability and high performance. Almost all structurally sound concrete floors, whether new or old, can be polished, with some exceptions. As long as the concrete has been in place 28 days or more, and is not wavy, extensively porous, or needs patching, then polished concrete could be a good option for your industrial flooring needs. If you are having new concrete poured, it is best to specify as smooth of floor as possible to minimize the polishing steps required.
Restaurant polished concrete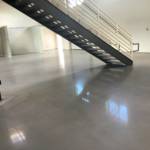 Furniture warehouse polished concrete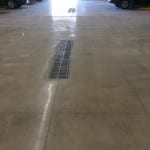 Auto shop polished concrete
In conclusion, existing floors usually require cleaning to remove the dirt, dust, coatings and grime prior to polishing. Then when we polish the floor, we use the traditional floor polishing system, using different grit diamond heads with our high-performance grinding machines to smooth surface to the sheen you desire, with 800 grit being the most traditional level. During this process, we apply a penetrating hardener to the concrete, which solidifies and densifies the polished concrete.
The benefits of a polished concrete floor over a coating make polished concrete the more superior choice in most cases:
Lower costs to maintain: Using the pre-existing slab on grade is more cost effective and you will have lower maintenance cost savings
Less maintenance and service life: Polished concrete floors are easy to maintain and do not require the laborious hours and time it takes to reapply wax or coatings. They glossy surface resists heavy forklift traffic and chemical and oil stains.
More resistance to high foot traffic
Resistance to moisture transmission issues: Polished concrete allows the floor to breathe, eliminating issues that come along with other flooring types, like tile.
High light reflectivity: Polished concrete creates a brighter space, saving costs on lighting; it also gives a bright, clean, professional image, which is why grocery stores, retail centers, public facilities and office buildings are opting to install polished concrete.
Sustainable flooring alternative: Polished concrete does not require hazardous cleaners, coatings or adhesives.
OTHER INDUSTRIAL FLOORING OPTIONS
When you are in the market to repair your concrete floors, you also have options to cover up the floor. In some cases, this is ideal and understandably so, such as if the concrete is not in good enough condition to coat or polish, or if you simply want a different look that coatings and polishings cannot give you. Some of these flooring types are as follows:
Laminate
VCT
Tile
Marble
Granite
Linoleum
Hence, when looking at your different options, consider how easy they will be to clean, how long they will last, are they sustainable and how much traffic can they handle? If any of these answers make you wonder if you should find an alternative route, it might be ideal to talk with a flooring contractor who is the expert in concrete flooring solutions.
Contact us today for your FREE ESTIMATE at 720-258-6571.