COLORADO CONCRETE REPAIR ENJOYS WORKING WITH CLIENTS IN THE DENVER METRO AREA, AND RECENTLY WE WERE ABLE TO WORK WITH LITTLETON CONCRETE FLOORING AT REINKE BROTHERS, A DOWNTOWN LITTLETON HALLOWEEN AND COSTUME SUPERSTORE!
Littleton concrete flooring is fun to work with because you can do several different finishes to the old concrete to fit with your desired overall look. Reinke Brothers wanted a different kind of floor, so they removed the tile and then asked us to stain the concrete because their concrete had tile lines. We were delighted to help them out! This week we wrapped up our stained concrete flooring project at their Halloween and costume superstore and are looking forward to seeing their store after the redevelopment. Reinke Brothers chose a orange-tinted stained concrete floor to accentuate the amazing costumes and props they showcase daily, as well as be a good canvas for their artist to paint a big hole, so it gives the illusion you are stepping into a hole. If you haven't checked out their store, we'd highly recommend it! One of the Reinke brothers, Rick, collects really cool pieces from movie sets that will make you ooooh and awwww when you see them.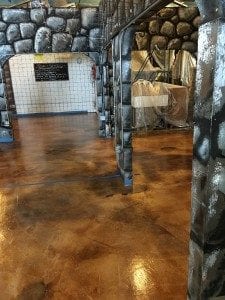 Stained concrete floors are a good option if you're looking to keep the existing concrete after tile has been removed. VCT tile often times leaves visible lines due to the nature of the concrete and moisture working together in those spots. Since this is hard to remove, even with a good polished concrete system, some clients choose stained concrete because we're able to put down a cementitious overlay and then stain the floor to hide the lines.
When deciding on which kind of concrete flooring you want in your residence or place of business, consider the benefits of working with existing concrete for your flooring needs. Here are some benefits to choosing concrete flooring:
Sustainability: by choosing to work with the existing concrete floor, you forego consuming more material, like wood or carpet to cover the concrete.
Versatility: you can choose from an array of colors to give you that desired look.
Lower maintenance: stained or polished concrete only needs a weekly soapy mopping to keep it clean.
Economical: stained or polished concrete is usually around $4-8 per square foot, which is usually less expensive than other flooring options. Plus you won't have to mess with having to replace it later on down the road.
Depending on how old the concrete is, it can have a lot of character, including cracks and variations in the color and texture. Colorado Concrete Repair can help you choose the option that works best for you when it comes to what type of concrete flooring you want. We specialize in polished concrete and would recommend this if you want to enhance the look of your existing concrete floor. This process leaves your concrete with it's original character but then adds a sheen to it that will last for years. You can also choose the grind and seal option, which is similar to polished concrete, except we don't grind as many layers. You can choose concrete overlays, which come in many different colors and textures to fit your specific needs.
Call us today at 720-258-6571 to discuss your concrete flooring options! Or fill out our form and we'll contact you back.