Colorado Concrete Repair specializes in warehouse floor resurfacing in the Denver metro and Rocky Mountain region. We have powerful machinery and equipment to take on 1,000 sq. ft. projects to more than 10,000 sq. ft. projects. Our specialties include concrete grinding, polished concrete, and epoxy, or concrete coatings.
HOW DO YOU KNOW IT'S TIME FOR A WAREHOUSE FLOOR RESURFACING? IS YOUR WAREHOUSE FLOOR READY FOR A RESURFACE?
Warehouse floors take on a lot of wear and tear from machinery, including forklifts, foot traffic, chemical, oil, and food spills and stains. This tear can wear away at exposed concrete very quickly if it's not protected or if the sealer or coating has worn through. Concrete that is cracked or spalling quickly becomes a more dangerous surface for vehicular and foot traffic. Here is what to look out for when deciding if it's time to reseal or resurface your warehouse floor:
Spalling, holes, or cracking on the concrete surface
Sealant or coating is wearing off
No concrete coating was ever applied
Spalling, Holes or Cracking on the Concrete Surface

If you see the concrete crumbling (or spalling) on the surface, holes are starting to form, and the concrete is cracking, it is time for a resurface. Since we are the experts in warehouse floor resurfacing, we can properly patch the concrete and fill the cracks with a flexible filler, so that the concrete is stabilized for coating adherence.
After our concrete repair step, we will grind the concrete if we are going to seal it. However, some clients only want us to install industrial repairs and we will be glad to do that as well. We address trip hazards and crumbling concrete with industrial strength materials, but it is often the next best step to protect your whole warehouse floor with a durable concrete coating or sealant as the next step.
Sealant or Coating is Wearing Off
Often, we receive calls from clients who rent or own their warehouse space and they see the sealer or coating is wearing off. This is where we come in! We'll help you decide which flooring is right for your situation and budgetary needs. The way you can see if the sealer is coming off is by simply looking at it. If you see bare concrete in some areas and a different color (the old sealer or coating) in another area, you probably need to resurface it. Here are a couple of ways to tell if you need a new sealer or coating:
Does the concrete soak up water when it is applied or does it bead up? If it beads up, it's still protected; if not, then it's time for resealing the concrete.
Do you see a coating in one area of the warehouse and not another, or stripes of it missing? If some of the old coatings is missing or delaminating, it's time for a resurface!
If you rent your warehouse, you might want to go with a simple grind and seal option, where we grind the concrete, repair it if needed, and then seal it with a solvent-based or water-based sealer, or an epoxy, urethane, or polyaspartic coating. The less expensive option is going to be the acrylic sealer; the more expensive but generally higher performance option is the epoxy or urethane or polyaspartic coatings. Generally, warehouse owners invest in higher performance, longer-lasting coatings because of longevity, durability, consistency, and easier maintenance.
No Coating Was Ever Applied
Sometimes warehouse floors are never sealed or coated since the original pour.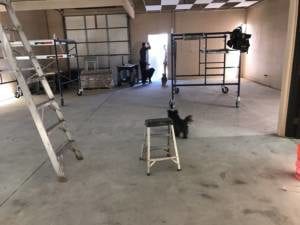 This can happen for various reasons:
budget, the client doesn't see the benefits of epoxy floors, or they've been running just fine until the concrete starts to crumble beneath their feet. And it's okay! We specialize in resurfacing old floors and newly poured concrete floors, even if they've had pre-existing flooring on them. We'll remove the old flooring and apply our concrete coating system.
Now that we've discussed how to know when to resurface your concrete floors, and what to look out for, it is time to make the decision on which company to do the work and when you want to get it done! Here are the next steps you'll take.
MAKING THE DECISION
There are multiple things to think about when deciding to if a warehouse floor resurfacing is needed or you should buy a concrete coating system for your warehouse floor. Here are things to consider:
Who to hire
What system to choose
What color
How long will it take?
When to do the floor when another construction is taking place?
Often business owners will get three bids; that's the industry standard and it's a smart decision.
More could be said about the hiring process and choosing what company to do the work, but mostly lookout for trust, testimonials or references, the contractor's schedule (how far out are they?), experience, and past work (pictures or something that showcases what they've done).
Generally, the contractor will listen to your needs and specifications, and then give you recommendations on the best concrete coating system to use in your scenario. That's' why it's important to choose a contractor who has experience in the industry and the proper equipment and access to high-performance material to complete the job.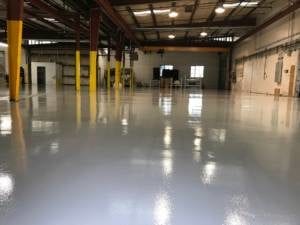 Then, when you choose a system, you'll get to choose a color! Often, we find clients like to go with lighter colors for the floor to instantly brighten up a room.
We provide color charts, but be careful with your expectations because sometimes colors look different when applied vs. on a computer screen or piece of paper!
The length of time the job will take will depend on the number of repairs and when the contractor can be allowed into the warehouse to start working. It will also depend on the amount of detail work required and the amount of square footage in total. Your contractor will usually talk with you about your scheduling and his scheduling, so be prepared to talk timelines during the estimate, or first visit.
In summary, we often don't come in lowest among other bids, however, when you choose us you're choosing excellent customer service, quality, high-performance materials, and a combination of 20+ years in the concrete coatings and repair industry. With this experience and attention to our customer's every need, we'll choose a warehouse floor resurfacing system that will benefit you the most in the long run.
Call us today for your free estimate at 720-258-6571!
We look forward to speaking with you and earning your business!