Our concrete grind and seal system is a terrific way to transform your concrete floor from drab to fab. We recommend this concrete flooring application for clients who want a floor that is protected, industrial, durable, and that looks nice, but keeps the concrete's natural characteristics. Depending on the sheen and color the client wants, we direct them to the final topcoat solution. However, the grinding, surface prep, and concrete repair, will be done regardless of sheen and color selection on every grind and seal project.
WHAT DOES A CONCRETE GRIND AND SEAL LOOK LIKE?
Many people like the look of a nicely finished concrete floor, and often that floor has simply been through the concrete grinding process and sealed with a sealer or a coating of some sort. Other times, the concrete floor has been through the polishing process. Let's talk about the grind and seal application. Grind and seals can take on several different looks, depending on color and final sheen choice, as well as the aggregate underneath the top layer.
Color: You can choose to stain the concrete or apply a color sealer or coating to change the look of the concrete. We generally recommend a clear acrylic sealer if you are not going to get much traffic, if you want less maintenance, and if you like the natural look of the concrete, and don't want to spend almost double the amount of money.
Sheen: You can choose the sheen of the finished look. Do you want high shine? Then we'd recommend an epoxy or urethane coating, which can be clear or a different color. Do you want more of a matte finish, not as much shine? Then we'd recommend an acrylic sealer. Either way, the shine will wear out over time, but you can always bring it back with another coat of acrylic sealer or a wax for the epoxy option.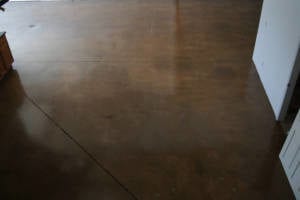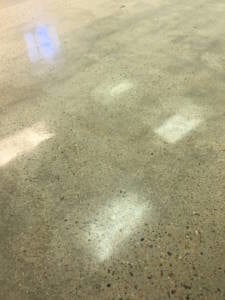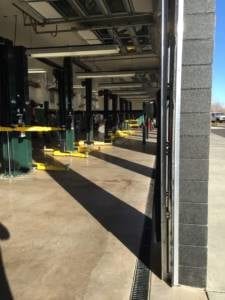 IS IT A GRIND AND SEAL OR POLISHED CONCRETE – WHAT'S THE DIFFERENCE?
Both concrete grind and seal application and polished concrete are similar, meaning, they both look similar and it's often difficult to tell the difference. They are both shiny, although the grind and seal can be more matte if the client chooses. They are both protected; polished concrete with a densifier, and grind and seal, with a sealer or a coating. Depending on color choice, the grind and seal will look like the concrete, only some aggregate may be exposed or deeper layers of the concrete, which may show a different color than the top layer. However, the grind and seal and the polished concrete can both be different colors: the grind and seal with a colored sealer or coating or stained concrete, and the polished concrete with dye.
Why Polished Concrete?
Generally polished concrete floors are best in high traffic areas, like retail centers, grocery stores, high schools, colleges, museums, recreation centers, and government buildings. Polished concrete floors are like the concrete grinding and sealing process, however, they go through more of a process: more diamonds, and more grits working on grinding the concrete at different levels, until you get the final polished concrete at around 800 grit. Polished concrete also requires adding a densifier or hardener to help protect the concrete.
Why a Grind and Seal?
Grind and seal floors are best in lower traffic areas, where you don't mind resealing every couple years approximately, or whenever the sealer starts to wear away. Or, you will have to wax the floor to maintain it if we apply a coating instead of acrylic sealer. It is a good choice for office buildings, some residential concrete floors, restaurants, and really any other flooring that needs fixed up and protected. The concrete grinding process in a grind and seal does not go through as many steps as the concrete polishing process, but it still turns out smooth and looks nice.
WHAT IS THE PROCESS?
The grind and seal process is a combination of preparing the surface, grinding the concrete smooth, repairing in cracks or holes, and cleaning the surface, and then sealing or installing a coating on top. It is important the concrete is prepped properly, so that the sealer or coating can adhere to the surface. We use state of the art equipment and high-tech materials, as well as highly skilled labor to complete all projects. Our dust-containment system is beneficial for trapping the concrete dust that the grinding machines create, which will help eliminate dust. When you grind concrete, heavy amounts of dust are created in the process!
HOW LONG DOES IT TAKE?
 The process takes about 2 to 3 days for 800 sq. ft., but it depends on how big your area is and how many small spaces and edgework we need to grind, as well as how many repairs. At the estimate, we will give you an expectation as to what it will look like as the end result. For example, if you have stains on the concrete, you have about a 90 to 95 percent chance you won't see if after the grinding process. If you have cracks, we often must make them bigger [chase them] to properly install caulking to help your concrete slabs move properly and help minimize further cracking. If you choose a clear sealer, you will see the crack repairs. However, all of this is industrial and hopefully goes with your overall desired end look: industrial concrete.
Does all of this sound like something you'd like in your place of business or in your home? Give us a call today to schedule your free estimate at 720-258-6571 and let us take the headache out of your concrete flooring project!