IS YOUR WAREHOUSE IN NEED OF AN INDUSTRIAL STRENGTH CONCRETE COATING? HAVE YOU THOUGHT OF EPOXY FLOORING AS OPTION?
INDUSTRIAL EPOXY FLOORS
Colorado Concrete Repair can help you have a durable, industrial strength concrete floor for all your manufacturing needs, including heavy equipment and vehicular traffic. Businesses are choosing industrial epoxy floors to fulfill their needs to:
Protect their concrete floor
Help with slip-resistance
Be aesthetically pleasing to the eye
Be a durable surface that can withstand the work of machinery, oily and greasy products or product residue
Be low maintenance
Concrete flooring on its own is not waterproof, shows cracking and imperfections, and can be uneven in areas, preventing vehicular traffic and movement of large objects, difficult to move. Our epoxy floor systems, give you a floor that will last and a floor that will hide imperfections of the concrete below, as well as smooth it out, so that your traffic can easily ride on the surface and therefore make your day-to-day tasks more efficient.
You will also have an array of color options from which to choose. The most popular one we've seen with clients is gray, as you'll see in the pictures below. This color is bright, yet does not show scuff marks and dirt as much as white, for instance.
This type of flooring is best when treated properly and maintained. We'll help guide you to a good maintenance plan, as well as leave you worry-free for how you can move forward with taking care of it. You'll still want to clean it as you would any flooring and you want to clean it with the right products and equipment and tools. We'll get you going from the beginning stages of our relationship through the ending stages of the project.
INDUSTRIAL EPOXY FLOOR PICTURES
Epoxy floors are an excellent option for warehouses, where you manufacture tools and other items. Here are some pictures we took of an epoxy gray industrial coating we applied for a warehouse manufacturing facility in Colorado Springs, Colorado. We used an oil primer to help this coating stick to the prepped and cleaned concrete surface in this project.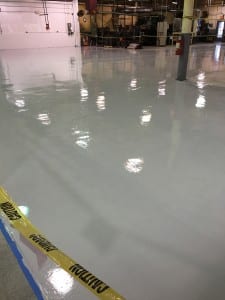 Contact us at 720-258-6571 to discuss your project needs and to schedule a free estimate!